Description
Power your life.

Hit the road with the InstantCharger 65W 2 USB. This powerful, pocket-sized charger safely charges two devices* simultaneously. It can fast charge anything with a USB-A or USB-C cable—phones, earbuds, power banks, cameras, even your laptop or gaming console. Included swappable travel plugs work no matter where you're headed. And it's made from recycled plastics and packaged in sustainable, earth-friendly materials. Travel light, wherever the journey takes you.
General Specifications
Output Power (Max.,W)

65

Operating Temperature

0~45°C

Average Active Efficiency (Min.)

82.18%

Efficiency At Low Load (10%, Min.)

75.18%

No-Load Power Consumption (Max., W)

0.16

Input Power

100-240V~, 50-60Hz, 1.5A

USB-A Output Power (Max.)

5.0V 3.0A 15.0W

USB-C Output Power (Max.)

5.0V 3.0A 15.0W, 9.0V 3.0A 27.0W, 12.0V 3.0A 36.0W, 15.0V 3.0A 45.0W, 20.0V 3.25A 65.0W

USB-A+USB-C Output Power (Max.)

65W
Dimensions
Charger Dimensions (Plug Excluded) (W x H x D)

56 x 56 x 28 mm / 2.2 x 2.2 x 1.1 "

Charger Weight (Plug Excluded)

107 g / 0.24 lbs
Features
USB-C Compatible

Yes

Earth-Friendly Packaging

Yes

Power Delivery 3.0

Yes

USB-A Compatible

Yes

Travel Adapters Included

Yes

Protection Pouch Included

Yes

GaN (Gallium Nitride) Technology Included

Yes

Smart Power Distribution

Yes
Notification
* Charging cables sold separately.

-

** To deliver single USB-C port max. 65W charging, select compatible USB-C to USB-C cable that can support 65W charging output.

-

*** MacBook Air models introduced in 2018 or later.

-

**** Charging times based on SGS testing using USB-C port and compatible charging cable. Actual user experience may vary depending on many factors, such as model, battery size, temperature, humidity, and condition and age of the device.

-

***** Charging cables sold separately. USB-C port supports max. 65W PD charging. USB-A port supports max. 15W charging. When charging two devices simultaneously, total max. output is 65W.

-
What's in The Box?
1 x InstantCharger 65W 2USB
3 x Exchangeable plugs
1 x Pouch
1 x Quick-Start Guide
1 x Safety sheet
1 x Warranty card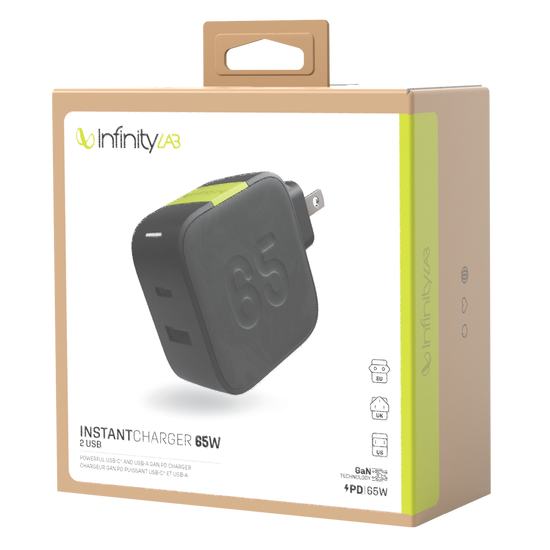 Documents & Downloads